Tips for Travel Gratuities
Most of us have the art of tipping figured out here at home, but the same rules and standards that apply here in the United States don't necessarily apply when deciding what to tip when we are traveling to other countries. A good rule of thumb is to tip when you receive good service.  If someone does something for you that you feel like rewarding with a gratuity, then give them one!  We are sure they won't mind. Here are a few 'tips on tipping' when traveling on your next Vacation Your Way.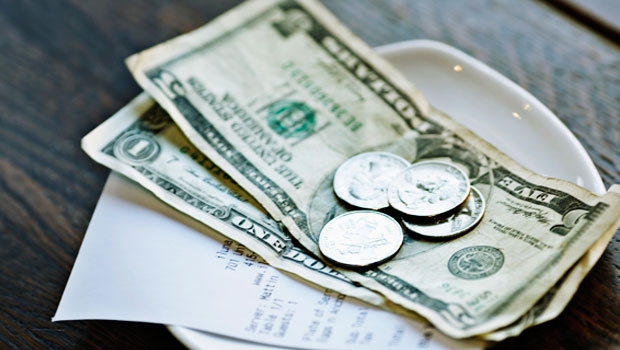 Cruise Gratuities
Most all cruise lines add gratuities to your bill at a rate generally between $15 and $22 per person per day. These automatic tip amounts are generally adjustable up or down if you feel the service you received warrants a change. These gratuities are split throughout the staff, however, if you want to reward one or two staff members for exceptional service to you personally, you may tip them the old fashioned way with an envelope and a thank you before you disembark.
Tour Guide Tipping
There are different types of tour guides you may want to tip.  Here are a few 'tips' on tipping these various tour guides.  A private guided tour for you and your family or small group – it would be good to tip $8-10 per hour for a small group private guide. For a larger group where you tour with others, the tip should be $2-4 per person in your group, per hour.  For an escorted tour where the guide travels with you, consider $4-6 per day, per person, paid at the end of the tour trip.
Transfers & Driver Tipping
When you have a transfer from an airport or train station to a hotel or ship, or the other way around, consider tipping about 10-15% of the transfer cost you paid. For bus drivers on short tour excursions, it is nice to tip about $2-3 per person in your group.  For drivers on escorted tours that last days or even weeks, you should tip appropriate to the service received, at about $3-5 per person per day. These are all guidelines, but remember tipping is at your discretion.
Hotel Tipping
There are two common tipped positions at your hotels on your Vacation Your Way – Bellhops & Housekeeping.  For bell services, it is acceptable to tip $2-3 per bag delivered with a smile to your room.  Make sure you have small bills on your trip for tips!  For housekeeping, it is acceptable to tip $2-3 per day, and up to $5 per day for deluxe hotels and resorts. The housekeeping tip can be left in the room – with a nice thank you note if you received good services during your stay.
Restaurant Tipping
Tipping your server at your restaurants while traveling the customary 15-20% of the check total is a good idea.  It is a good idea to tip based on the service provided to you by the server, thus rewarding better service with a greater gratuity.  In some parts of the world this level of restaurant gratuity is considered exceptional and is not recommended.  These regional tipping customs are discussed in the section below so you can be prepared on your dream vacation.
Luggage Assistance Tipping
Don't forget to tip the service providers that help you with your luggage. Whether at the airport checking-in, retrieving off the carousel when you arrive at your destination, or during your transfers and at your hotel or ship. It is a lot of hard work to handle luggage all day, so it is a nice gesture to reward them with a small tip. perhaps $1-2 per suitcase, if they took care of you and your luggage on your vacation.
Regional Norms on Tipping
Tipping in Europe
Some tips for tipping in European countries on your vacation your way:
*  Tipping is considered a bonus for great service, not part of salary as in the US
*  Try to always tip in cash, it will be appreciated
*  Check to see if there was already a tip or service fee included in your bill
*  Make an effort to tip directly the person that provided the service
*  Don't bother tipping if the service was poor
*  Tips usually don't exceed 5-10% of the bill for restaurants
*  Cab drivers typically won't expect a gratuity
*  1 Euro per bag for bell services or per day for housekeeping sufficient
Tipping in Asia
Some tips for tipping in Asian countries on your vacation your way:
*  Tipping is a choice, and is not expected in most Asian countries
*  Most small local bars & restaurants tipping is not expected at all
*  Luxury hotels & restaurants frequented by westerners tipping is appropriate
*  Baggage service can be tipped at $1 per bag
*  Tipping may be prohibited in some areas, ask your hotel or tour guide
*  Tipping in Japan is typically considered poor taste, and generally avoided
*  Try to tip in local currency and directly to the service provider
*  Check your check for service included; if included not necessary to tip
Tipping in Africa
 Some tips for tipping in African countries on your vacation your way:
*  Porters, guides, & drivers salaries are made up mostly of tips, so be generous
*  In economically challenged Africa tips are very much appreciated
*  Keep a decent supply of small bills and coins with you when traveling
*  10-15% is customary tipping in restaurants, reward good service
*  Small tips for porters, hotel staff, gas station attendants, etc are appreciated
*  Guides should be tipped $5-10 per day per person in your group
*  Round up your taxi fare, and don't expect change
*  Try not to tip cash to children on the street as that money will be passed to others
Tipping in South & Central America
Some tips for tipping in South & Central America on your vacation your way:
*  Customary restaurant & bar tipping is about 10% dependent on service
*  Tour guides should be tipped about 10% cost of tour or excursion
*  Drivers on tours should be tipped about half what you tip the guide
*  Taxi drivers typically don't expect a tip, but you may round up for good service
*  Tip your bell person $1 per bag, and housekeeping $1 per day
*  Try to tip in local currency and in cash when possible
*  Large bills are often hard to change, so plan ahead
*  Outside tourist areas tipping is not very common
Tipping in The Caribbean
 Some tips for tipping in the Caribbean on your vacation your way:
*  Tipping in the Caribbean is common and influenced by proximity to the USA
*  Many hotels include service charges up to 15-20% of the bill – check your bill!
*  If no service fee $1-2/bag for bell service & $2/day housekeeping is acceptable
*  Some all-inclusive Caribbean resorts discourage tipping, check with front desk
*  Many restaurants include service fees, so check you bill
*  Reward excellent service if you can wherever it is given
*  Taxis can be tipped $2 for short rides, best to have exact change if you can
Tipping in South Pacific
Some tips for tipping in the South Pacific on your vacation your way:
*  Tipping is not customary in the South Pacific Island nations
*  Rewarding excellent service is always a good idea
*  Some islands you might find tip jars in bars and restaurants
*  In Australia & New Zealand servers appreciate the bill being rounded up
*  Try to tip in cash and use local currency when possible
*  Over-tipping may be considered offensive in some areas