Traveler Testimonials
Perhaps the best way to find out what to expect from a Vacation Artist and the services of Journey Your Way is to read traveler testimonials or reviews on their trips, how they went, and the service they received. The Vacation Artists at Journey Your Way pride themselves every day on making vacation ideas into reality as seamlessly as possible, taking care of every detail to ensure your journey is truly a dream come true!  Read below to find out how our Your Way travelers feel about their Journey Your Way experience.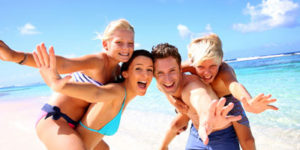 The team at Journey Your Way takes the time to understand your travel needs & budget requirements to transform your trip into a lifetime of memories. We recently asked them to help us plan our 10-day European vacation to London & Paris and we could not be happier. Everything turned out fantastic, and Bradley added his personal touch before, during & after the trip to make us feel like family. Our Italy adventure is currently being planned and we expect it will be amazing too!
Mike, Tricia & Michael
Our vacation artist, Julia, was very easy to work with, she made the whole experience for my family easy and with as little stress as possible. Julia made our vacation very enjoyable. She listened to our requests and made them a priority. We appreciated her quick responses and attention to detail. She shopped for the best deals for my family so we could have a very memorable vacation of a lifetime. Thank you so much for helping us plan a wonderful trip. It truly was amazing!!   5 stars!!
Michelle & Briana
We experienced first hand what Jason can do for your travel plans.  We visited many countries in Europe, with expert accommodations on land and on board both of our cruises – a Rhine river cruise and a Baltic cruise on Celebrity.  Our vacations exceeded our expectations as these were our first overseas trips.  Everything was planned perfectly and the itinerary was adjusted well to our needs with handicap accessibility.  Traveling with Journey Your Way is exactly that, Your Way!
Frances & James
We have never booked anything through a Travel agent before now, but just booked our cruise with Journey Your Way.  I can't believe we waited so long.   They found us the best possible deals, great cabins, and gave us tons of options to choose from.  They made the process so easy and were never bothered by our many questions.  We highly recommend Journey Your Way to book all your travel needs!
Bill, Rosie, Will, Stevie & Ben
We have been using Journey Your Way for multiple trips abroad over the last 6 years, and love working with Jason. We have been highly satisfied with his choices, recommendations & detailed planned itineraries. He factors in our wants and needs for all our trips, taking into account places we want to see, places we may not have been aware of, and arranging tour guides at sights to help us avoid lines. When we previously planned a couple trips on our own, we spent weeks doing research, so we know how much time and effort he puts in to planning each trip. He makes us feel so special as if we have our own personal concierge. We have had amazing guides & experiences at the Vatican, Morocco, Milan (including getting us in to see The Last Supper) & Sicily. When we are touring on our own, he even gives us directions to the closest car park. He arranges flights, car rentals, tickets, hotels and more. We have stayed in amazing hotels we could not have found on our own. Our memories would be the same without Jason's help. We would definitely give him a 5 Star rating.
Ron & Laura
Jason is a "Vacation Artist".  We reached out to him with our vacation desires, & he turned them into a dream vacation. He was timely with his responses & extremely informative with very specific details. Jason listened to our requests and honored all of them. My mom needed to be close to an elevator on our Celebrity Cruise, and our room was the closest room to the elevator. Jason is amazingly efficient & very detail oriented  I have already booked a 15 day Scandinavian vacation with him.  I will steal my sisters-in-law's quote, (who also booked a European trip with Jason) "I will never book another trip again without Jason!"  I absolutely agree. Jason has made our family vacation dreams a reality. I am so thankful we found him – I can't wait until our next adventure orchestrated by our travel agent for life!
Stephanie & Patricia
My trip to Germany with Journey Your Way was so thoughtfully planned.  I have found my travel artist for life in Jacob. For others thinking of travel the personal attention and customization at Journey Your Way will definitely exceed your expectations.
Matthew
I wasn't sure what to expect with Journey Your Way, but once I got started with them working on planning my Russia river cruise and extensions, I knew I came to the right place. They planned everything for me, exactly as I asked for, and the trip was amazing!  A seamless trip where everything they planned worked just perfectly. I will definitely use them for my next bucket-list adventure to Machu Picchu in the very near future!
Dennis