Africa Destination Inspirations
Thinking about a journey to Africa?  Do you want to explore this vast and culturally rich continent?  Let Journey Your Way be your vacation artist and build you the perfect Africa vacation. With so many amazing places to explore, from Egypt & Morocco in the north, to South Africa and Victoria Fall in the south, Africa is a destination not to be missed.  Explore ancient sites like the Pyramids of Giza or mingle with wildlife like the elephants, gorilla, lions, and more of Safari southern Africa.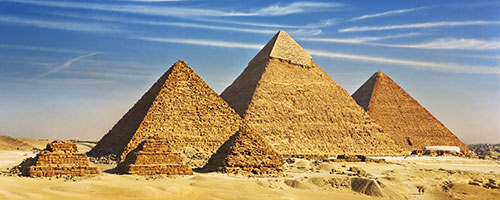 A true bucket list destination, the Nile River Valley of Egypt and it's capital Cairo. Exploring this region by guided tour or river cruise will give you the opportunity to experience in wonder the magnificent ancient historical sites like the pyramids and sphinx of Giza, Abu Simbel, & Valley of the Kings.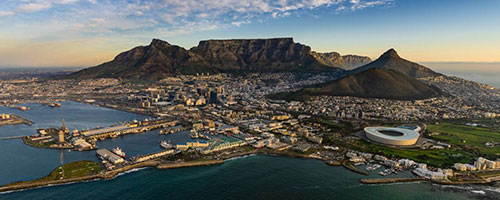 Ride the cable car to the top of Table Mountain and look out over the cosmopolitan city of Cape Town and the Cape of Good Hope – the views are amazing!  Visit a penguin sanctuary, explore the city's rich cultural heritage, spend a day on a beach, dine in a fine restaurant – the options here are endless!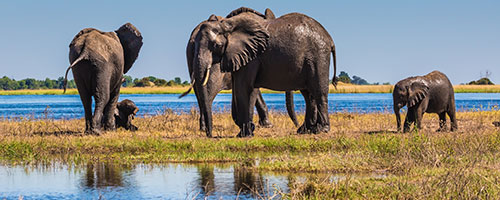 The Chobe River creates the border between Botswana and Namibia and is the life giving force behind the amazing wildlife of Chobe National Park. The river stretches from the Okavango Delta to it's junction with the Zambezi just before it falls over cliffs forming Victoria Falls. Visit Chobe for the ultimate Safari!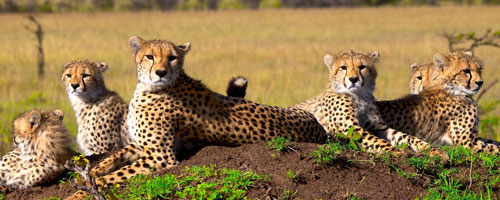 A Kenya and Tanzania safari vacation is perhaps the best opportunity to see a magnificent number of wildlife. See the big 5, but here you will also witness a million wildebeest, hundreds of thousands of zebras, and the list goes on!  Visit Masi Mara or Serengeti Parks for a nature lovers paradise!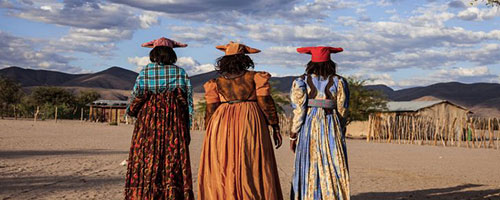 New to the safari world is Namibia, that lies on the west coast of Africa. Namibia is home to an arid dessert like coastline that is home to a unique blend of flora and fauna. Beyond this Namibia has a safari focus that mixes with a unique and friendly culture that is inviting to travelers the world over.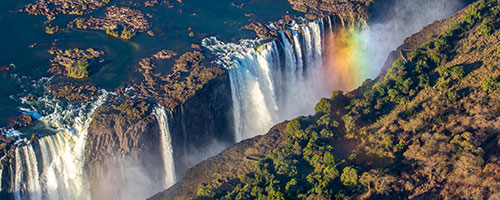 As the Chobe River of Botswana flows into the Zambezi River of Namibia, the waters soon are found falling over the largest water fall in the world – famed Victoria Falls. Here, on the border of Zimbabwe and Zambia, you can experience this magnificent natural wonder – as a side trip on your African Safari vacation.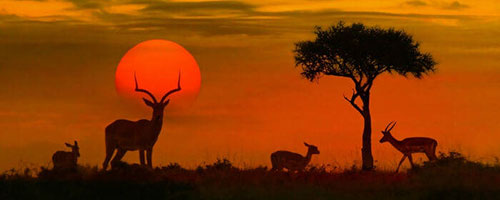 One of the best known & most popular safari parks, South Africa's Kruger National Park boasts a very high density of wildlife including the Big 5 – lions, leopards, rhinos, elephants & cape buffalo. Kruger is also home to multitudes of other mammals and hundreds of bird species such as vultures, eagles & storks.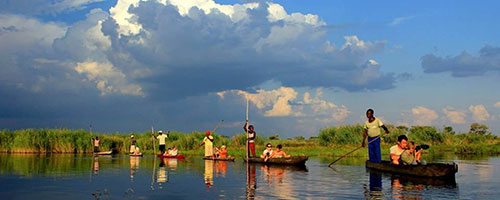 The Okavango Delta of Botswana is a real bush safari experience where you will likely experience some of the most magnificent wildlife sightings of your safari vacation. Here you will lodge in a tented camp, and get around using carved hull canoes with local guides that know these watery lands very well.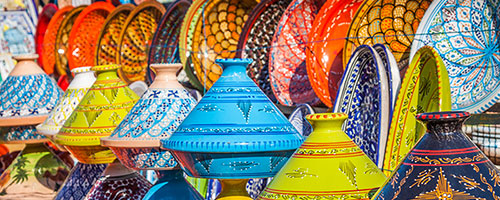 Visit the colorful and fragrant markets of Morocco – just a short flight or even drive from the southern tip of Spain near Gibraltar. The markets are full of artisan wares and rich spices, as well as a friendly people living in this unique, arid, ancient land.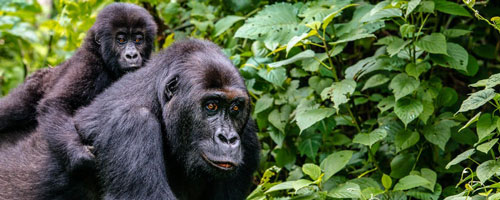 Relatively few have visited Rwanda as the travel infrastructure is still being developed, but if you have the opportunity you will be able to explore the jungles and be witness to the magnificent Gorilla population the country is famous for. Visit Rwanda for a life-changing journey!
Are you feeling inspired?
Do one of these great Africa trip ideas, or one of your own bucket list dreams, inspire you to get started with planning your next Vacation Your Way? Get in touch with a Vacation Artist today at Journey Your Way to set up a time for a travel consultation. Tell us when is best to call you, we will confirm via e-mail, and then call you at our agreed upon time and date. Don't wait – get started today!  Africa Your Way is waiting for you!